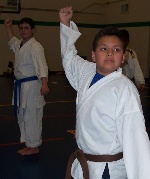 Our Youth Karate Training program will help your young student to develop the life skills needed for success and positive growth throughout school, college and the "real world". Young people must have personal goals and a caring support system to make their dreams reality.
Our teen and pre-teen students have experienced improvements in academic performance, self esteem, physical fitness, respect for others, and self control by training with our professional instructors.
We believe that each student deserves the one-on-one attention needed to help them strive to achieve their goals, handle stressful situations, and maintain healthy habits.
Sign-up for a FREE 2 Week Karate Training for Your Child!