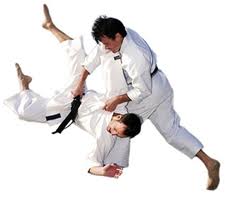 The exclusive adult training curriculum includes the best disciplines; sport and self-defense (jutsu)
In Sport Karate: students will learn the dynamic, active WKF competition training techniques and rules of WKF Olympic Karate https://www.wkf.net/. Fitness with strategic technical and tactical skills have propelled this program based on the latest research and up-to-date WKF training techniques.
In Karate Jutsu: students will learn the original defensive applications that are covered by our style of Karate. These bring elements of ground fighting, joint locking, and throwing as well as the punching and kicking methods. This program also includes advanced specialty classes focusing on reality based weapon defenses (stick, gun, and knife), and mixed martial arts.
Students get in great shape, while working on their personal goals of self-protection, fitness, or becoming a Black Belt.