Oscar Silvera, 5th Dan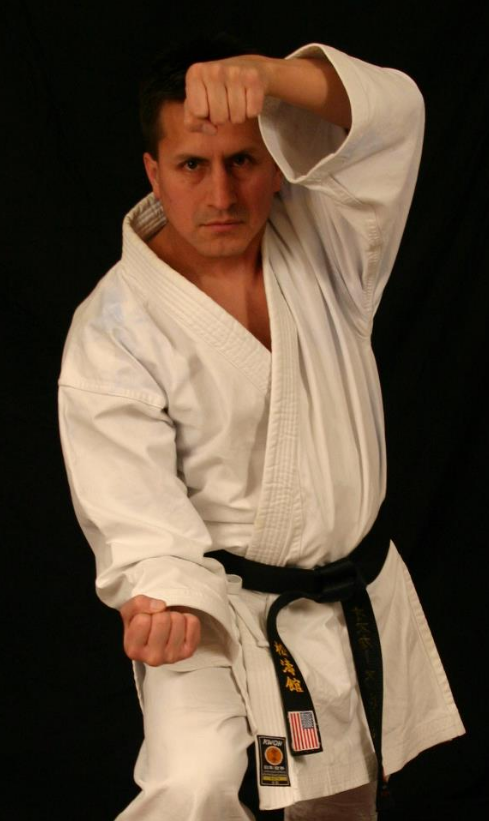 Silvera Sensei is the Chief Karate Instructor and owner of the Silverado Karate Dojo. Also, chief Instructor of the International Budo Ryokukai in Michigan. Sensei Silvera has trained in variety of Martial Arts; such as Iaido, Aikido, Taekwondo, Judo, Krav Maga, Tai chi, Kickboxing, Kung fu and Kudo. His martial arts training started back in 1984 and opened his first dojo in 1988, in Lima-Peru. Currently holds 5th Dan in Karate, Black Belt Dan in Iaido, and in Tae Kwon Do. Sensei Silvera offers insights into the relationships between various martial arts and the effective training methods found in those arts.
Sensei's Silvera international Awards:
Japan Karate Shoto Federation Pan American 2010 Kata Champion
Japan Karate Shoto Federation Pan American 2010 Kumite Champion (Silver Medal).
Matthew Broadhead, 3rd Dan
Mat Senpai is an athlete who has represented the UK under prestigious world events and holds titles such as:
UWK/WUKF World Kumite champion 2015, 2017 and 2018
UWK England team Kumite World champions 2015
Triple European Kumite champion 2017 (Open Weight, Heavyweight, Team)
Victoria Karate League Australia, Gold medal Kumite 2016
Champions cup winner and best of the best 2016 Kumite
Champions cup winner 2017
AAU National heavyweight champion 2018 Miami
British national champion 2015, 2016, 2017 & 2018
Mohammad Kia (Kianush), 2nd Dan
Kia Senpai began his martial arts journey in 1990 studying Kanzen-Ryu Karate-do in Nowshahr, Iran. In 1999, as soon as he was accepted by Iran University of Science and Technology (IUST), he joined the university's Shotokan Karate club. He trained under the supervision of Shihan Saeed Fard Normohammadnia and quickly made the "Team Kumite IUST". He continued training under the instruction of Shihan Normohammadnia for several years and finally earned
his first degree black belt in 2003 and 2 nd degree black belt in 2006. Senpai Kia moved from Iran to U.S. (Kansas) in July 2006. After participating and practicing in variety of martial art classes (Aikido, Jodo, Jiu Jitsu, Taekwondo, and Boxing) he joined the Johnson County Community College (JCCC) Karate club, in 2008. At this time he started to
practice Bushidokan Karate-do under the instruction of Sensei Roy Porter. From 2008 to 2013, he was an active competitor in Kumite, both in point sparring and full contact. In addition, Kia served as an assistant karate coach in multiple martial schools: JCCC (head coach Sensei Porter, Kansas), Webster Mixed Martial Arts Academy (head coach Sensei Webster, Indiana), and Internarial Karate and Fitness Center (head coach Sensei Anistratov, New York).
In 2018, Senpai Kia joined Silverado Karate Jutsu and he is excited to share his experience with new up and coming team kumite Silverado.
Sam Hargis, 1st Dan

Hargis Senpai at an early age, I had a fascination with the martial arts and science. At my college, Northeastern University, I got the opportunity to study and trained in Kung Fu. Later on in life, I trained in Okinawan style martial arts which included Shorin Ryu, Goju Ryu, and Isshin Ryu. This was under the tutorage of Dr. Aiello, Hanshi of the Shito Kan organization. At present, I am a Shodan in Shotokan Karate under the guidance of Sensei Oscar Silvera. Also to note, I am a judge and member of the USA Karate Association. "Karate is not just about the physical, it is about forging the mind, spirit and body." It is design to make you into a better person, a better student, a better and stronger individual. "Zensho - Live life without regret"